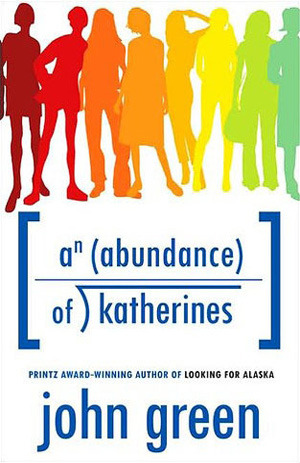 He thought about the space between what we remember and what happened, the space between what we predict and what will happen. And in that space, there was room enough to reinvent himself. There was room enough to be anyone- anyone except whom he'd already been, for he had learned one thing , you can't stop the future from coming.
I just finished reading John Green's "An Abundance of Katherines" about a child prodigy whose two main concerns in life are:
a) that he will eventually not matter and
b) that he has already been dumped by all of 19 different Katherines.
So in order to deal with both the crises in his life, he comes up with a mission to formulate a mathematical theorem that will predict the outcome of a romantic relationship between any two individuals.
The book is pleasant. Definitely not Green's best work but a few ideas did manage to hit base with me. Firstly, the obsessive clarity that the protagonist has about finding love only with a girl named "Katherine" which eventually, bollywood film style, is proved wrong. That made me wonder about how we do that to ourselves all the time, we imagine exactly what our "happy" looks like and  chase it with such single mindedness that even the possibility that something else could make us happier seems ludicrous, until it does.
Secondly the idea that our past is not what happens but what we remember of what happens. This is so right isn't it, we continuously rewrite our past and personal histories each time we retell it, to ourselves or to others. What we remember is hardly ever facts, it is events colored by feelings and outcomes that modify the event that started it all. A chance encounter with a stranger depending on the outcome may become the most creepy thing that happened to us (if he turns out to be like a stalker) or the best thing that happened to us (if he turns out to be our future partner). but at that moment as your brain is processing the event as it happens, it also keys in these blank spaces that we fill in later, with effects of our choice.
And finally the idea in the quote above, the idea of reinventing oneself, has to be the best one in the book.
Now, I must admit, this one was not a page turner really but a slow unraveling that one must keep patience with to witness the brief spurts of inspiration. I ditched this book halfway to complete Haruki Murakami's Norwegian Wood (A review on that coming soon) but when I came back and completed, I was glad I did.
Some quotes that will stay with me:
Let's do something remarkable!